Helllooo!
This time I will tell you the latest information of Suwa in spring.
■ The season of cherry blossoms coming!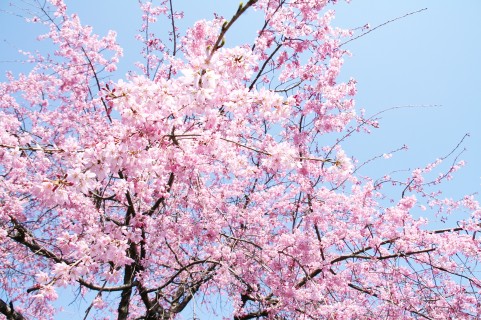 The cherry blossoms in the Suwa area are late to bloom, compared to Tokyo.
Since it usually blooms about one month behind from Tokyo, best time to see is in the middle of April.
Because it is chilly even in the middle of April, there are not so many people enjoying cherry blossoming while watching a party, as introduced in television and magazines.
However, since we want to see cherry blossoms, we will visit some cherry blossom spots and enjoy the coming of spring.
■ Where is a viewspots?
The places where cherry blossoms are in bloom are crowded everywhere in Japan.
Even in minor places, there are a lot of people and it is surprising.
The cherry blossomes spot in the Suwa area I recommend is known to every locals.
If you are going to travel to Japan, please go to the hidden cherry blossoms in the Suwa area by all means.
● Takashima-jo (Takashima Castle) (Takashima1-11-16, Suwa-shi)  ★ Famous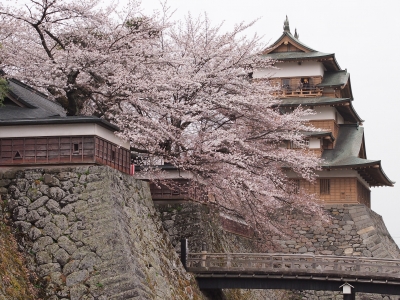 Cherry trees are planted in the premises, castles, moats and cherry trees make a very good atmosphere.
It is also recommended for people who want to take pictures with the atmosphere "The Japan".
Lighting up at night is also beautiful.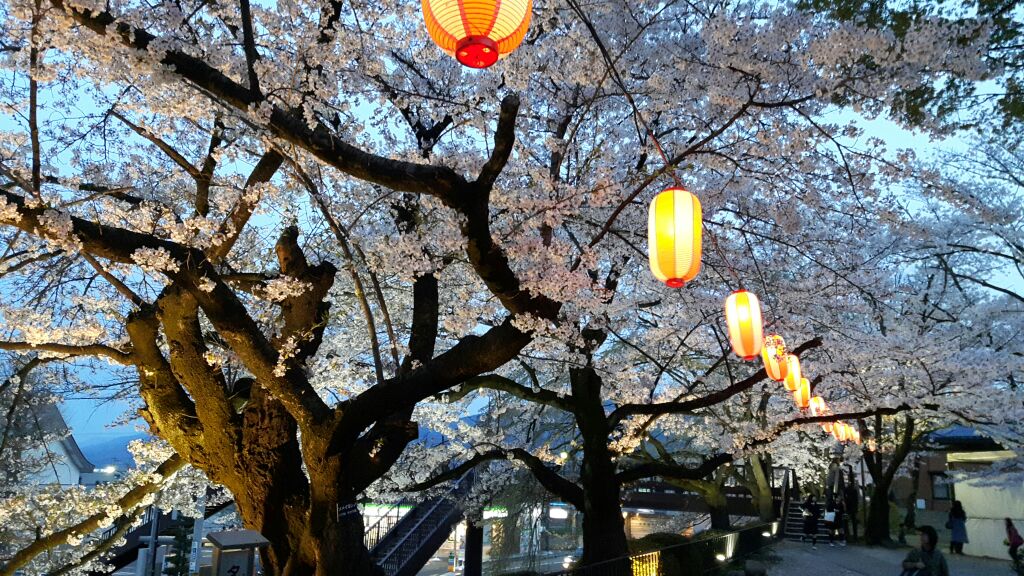 People doing "Pokemon GO" are also gathering.
☆There is a Miso-gura (= Miso store…?) named "Marutaka-gura" nearby so it may be fun to take a walk.
Marutaka-gura is similar to a sake brewery of Japanese sake.
It is a very old building, quaint, there are souvenirs selling and food and drinking spaces.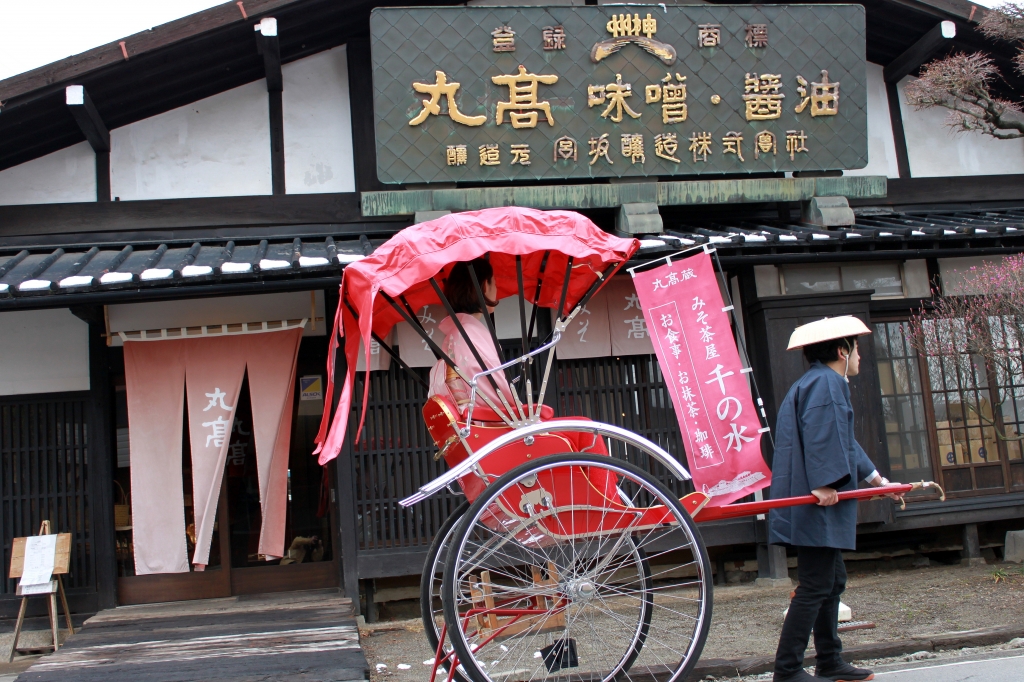 But, the Miso factory is open to group tourists only. ( https://www.suwa-marutaka.jp/)
● Yokokawa (Izehaya-koen side, Osachi gongen-cho4-1-31, Okaya-shi)
Cherry blossom trees are lined along the river bed for about 4 km.
They are like arches and it is very beautiful.
It is also a photographic spot, and a couple close to the wedding party goes with a photographer and sometimes performs a preliminary filming.
If you can see the girls in kimonos, you are lucky.
In addition to cherry blossoms, Izuhaya-Koen(Izuhaya park) is famous for autumn leaves and chestnut flowers.
The shrine in the back is also tasteful and has a good atmosphere.
● Nishiyama Park (Konami, Suwa-shi) ★My recommendation!
I think that it is impossible to go on foot because it is far from the station.
Because it is a place where families in the area come to picnics or come to play.
If you want to go, I would recommend a bus or taxi.
Because it is a hill, it is good that the view is good.
It is a cherry blossom forest called "Senbon-zakura(Thousands of cherry blossoms)", and since only a part of the mountain has become a large mass of fluffy and pink, You can understand the place quickly.
It is a place where cherry blossoms are blooming here, but it is also a famous place in Koi-nobori.
Do you know "Koi-nobori"?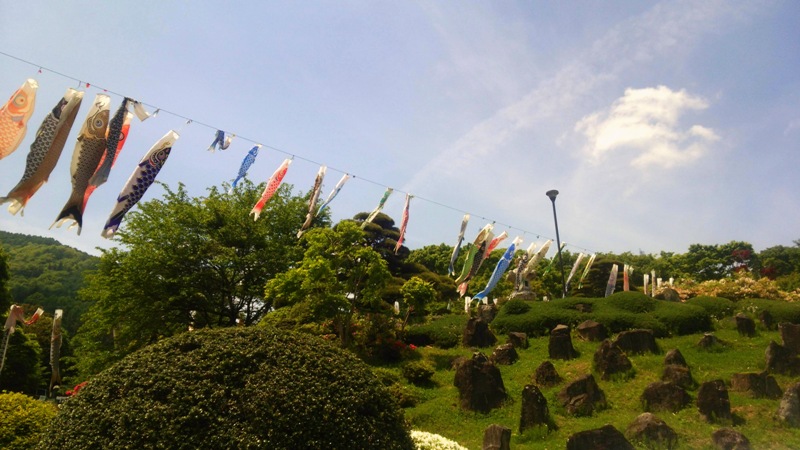 Yes, they are Koi-nobori. It's big carps family.
In Japan, there is a day called "Tango-no-sekku (Children's Day / Boys Day)", and in the period before that, they are swims in the sky.
At the Nishiyama Park, there are 200 carp swimming in the sky.
Please see another page for details. →→→ Nishiyama park in may, 2017.(coming soon)
Although cherry blossoms will fall away in May, fresh green deepens and is beautiful.
However, collaboration between "Sakura and Koi-nobori" also has a taste and is impressed.
Also, there is a beautiful Japanese garden that has been maintained, which is a space where local people can heal.
I like this place too much. So, I recommend for you.

● Tateishi-koen(Tateishi Park) (Kamisuwa10399, Suwa-shi)
Because Tateishi Park is almost in the mountainous place, the flowering of cherry blossoms is slow.
However, even if the cherry blossoms were not blooming, it is a very nice place to see the Suwa area centered on Lake Suwa.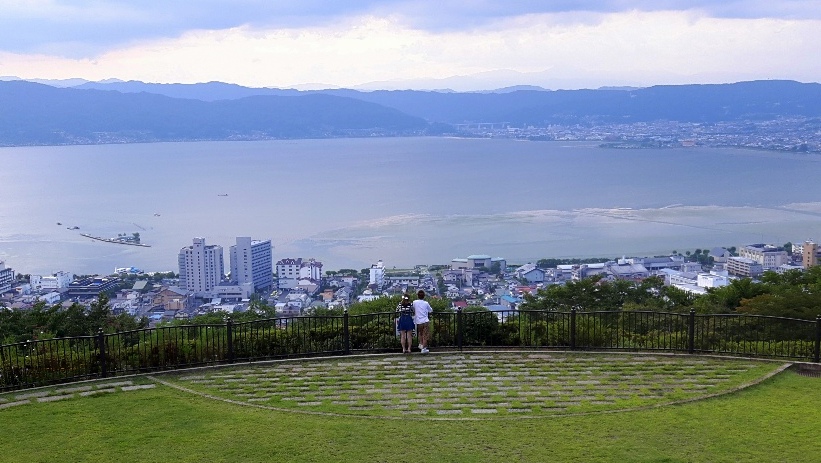 Do you know the animated movie "You're name"?
Although it is informal, many tourists are visiting as "the place where it became the model place of that scene" of that movie.
In holiday, the parking lot is full so it is a little troubled.
In spring this year, I believe that the sacred place pilgrim tourists will decrease ...
I think that a car (taxi) or a bus is good to go to Tateishi Park.
If it is from Kamisuwa station, it will take about 10 minutes if you drive a car, and or it costs about 300yen in about 40 minutes on a bus.
● Cherry blossom trees in Lake Suwa (Suwa-shi, and Okaya-shi)
<Okaya side, Suwa-ko Hitsu, Gongen-cho 4 -11-50>
The "Cherry blossom trees of Yokokawa" I introduced earlier is continuing to Lake Suwa.
When going to see from the lake Suwa side, it is good to go heading "Suwako-Hitsu" as a landmark.
It is a welfare facility with small cafe and free Ashi-yu (footbath/ foot onsen).
Cherry blossoms are in the place where you walked along the river side of Suwako-Hitsu for about 5 minutes.
There is also a large onsen facility called "Romanet" nearby, so it may be nice to take a onsen.
Sometimes I take a bath in this onsen.

<Suwa side, kogan-street 2- 2 >
It's close to the station and the inn.
Here you can enjoy breaks, shopping and sightseeing at the same time.
There is not much atmosphere that is quiet and like Japan.

Because there is a lot of traffic, please be careful of the car.
When cherry blossoms bloom, there are many cars driving inattentively, and the road sections of cherry blossoms are also congested.
This may be a spot where you can enjoy cherry blossoms even between busy itineraries.
For examples,
"When you buy bread at a convenience store, let's have lunch at Suwa Lake",
"Shall we watch the cherry blossoms as well as shopping?"…..something like that.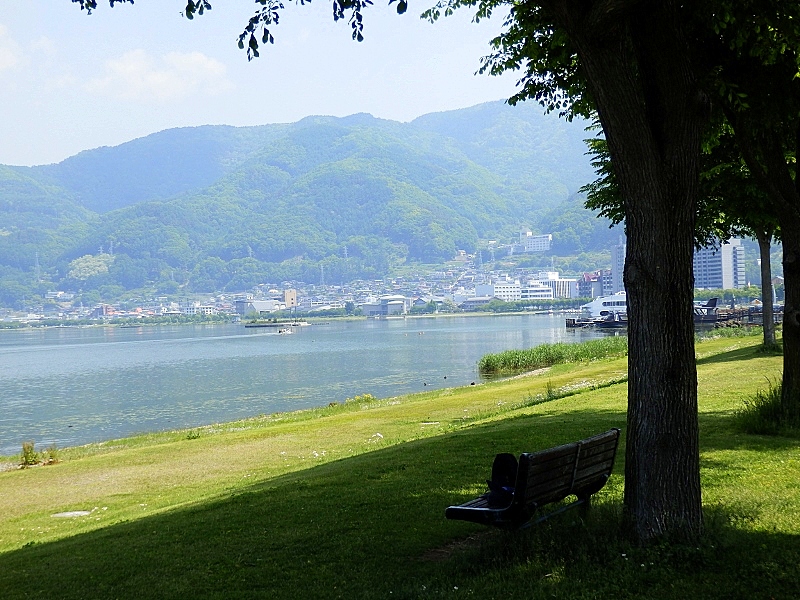 There are various shops such as onsen facilities where you can take a day trip, restaurants, convenience stores, souvenir shops, bakeries, cake shops, miscellaneous goods shops and so on.
It might be a bit difficult to find them, but ...
---------
I am sorry that there are few photos of cherry blossoms.
... But, if you search it on the Internet, it will come out a lot! :)
If you have any questions,please ask me anytime.
I am not good at English, but I will answer!